Photo by Derek Doublin
Kasey McMahon is a multidisciplinary artist curious about our interactions with technology, the world, and each other. Using recycled and unconventional materials, her lighthearted, elegant, and often otherworldly work encourages sidestepping reality through imagination.
Kasey makes tangible art for films and creatively directs digital projects. She has worked with companies and productions big and small, behind the scenes, to help bring innovative projects to life and has shown worldwide in galleries and alternative spaces.
Clients include 20th Century Fox, Sony, Dease Pictures, Radiant Films International, jAdis Props, MOTHER and others. Kasey received a BA from UCLA and continued her studies in Florence, Italy.
Commissions and interesting projects always welcome.
Please feel free to
get in touch
.
What do I want to say with my art?


Never lose your sense of wonder. Chase the sublime. Consume less. Look closer. Be curious. Allow yourself to really look at the world and define objects differently. Celebrate awe and seek the magic in everyday things.
Lately, in a world with sharp edges, I'm drawn to create more softness. Currently working on a new series, La Luna, debuting in Mexico City, Spring 2020. Follow progress on
Instagram
ARTIST STATEMENT:

I am addicted to creating wonder.

It's a moment that I'm after. That feeling when you see something new or different, when you see the way the world works, or how it can work like you've never seen before. Those fleeting brushes with awe spark creativity and encourage discovery. That's where curiosity lives — experiences that deepen the mystery and open doors to different perspectives. Those are the moments I live to create.

I make sculptures and installations with recycled and unconventional materials that highlight consumption and sustainability. An intentional, whimsical thread runs through my work. It's important to me to maintain a sense of lightness and surprise while addressing larger issues. Delight is a wonderful promoter of intrigue. I want the double take, the metaphor. I want someone to believe in magic for an instant.

A 70s child and a product of experimental living, for a few formative years we lived off-grid without running water, electricity, or modern conveniences. That unconventional upbringing and the vivid contrast in later years drew my interest to the ways we navigate the world, how little is actually necessary to exist, and an ongoing curiosity about our interactions with technology, the world, and each other.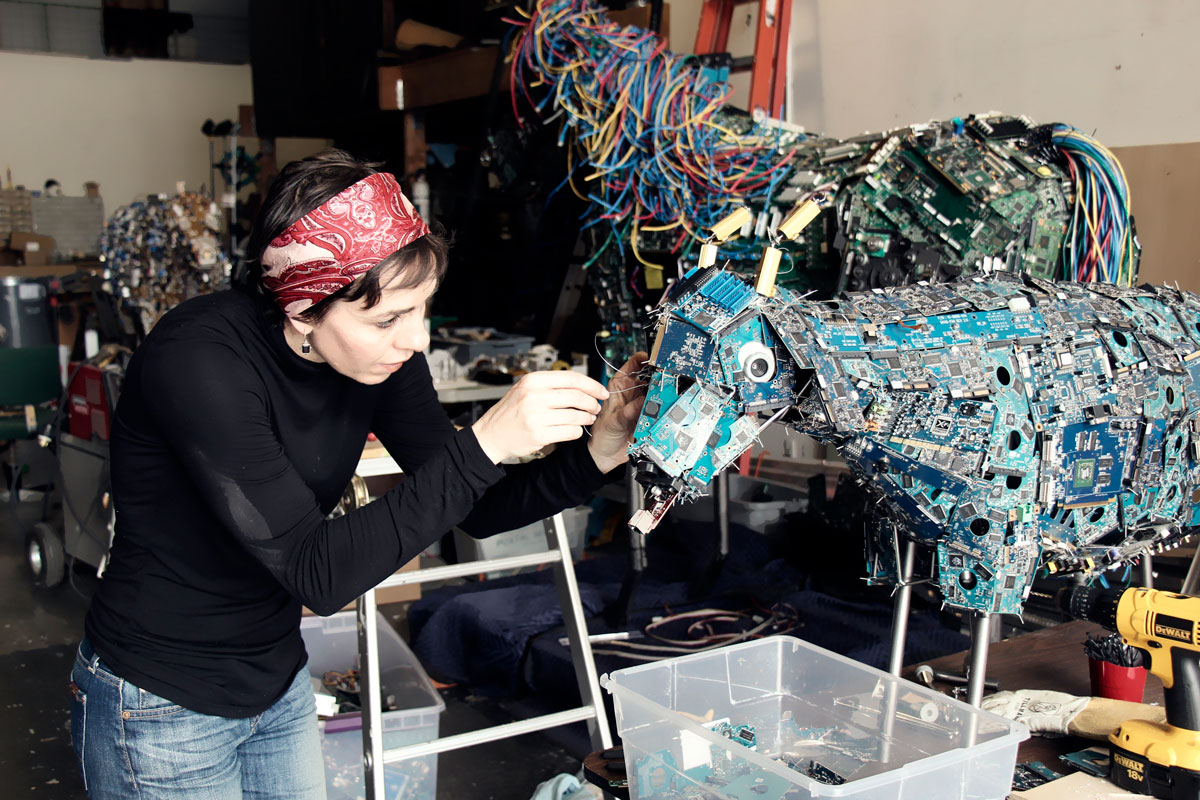 Erase Fear • Engineer Joy • Have Breakfast
Los Angeles